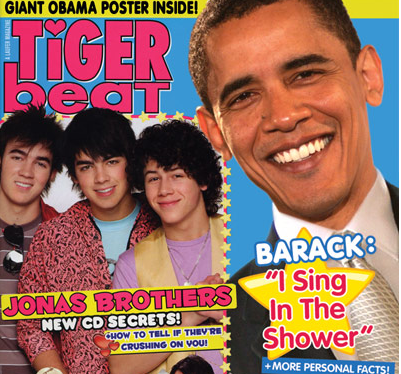 At this point, it's pretty clear that Jezebel exists to make Gawker look thoughtful, radical, and  passionate. Gawker slants tediously leftist, as do all of its writers (to my knowledge). But Hamilton Nolan, Max Read, and a few others have written quality, serious pieces on cops, the drug war, and war — many of which contain nothing in them that would alienate a libertarian.
Now, compare and contrast  a few Gawker posts with this latest Jezebel piece on the president, entitled "Check Out Obama's Adorable Prom Pic." It begins: "After last week's hellish scandal week, President Barack Obama could use a little PR break."
What's this? Photos of a young Barry at his prom have unearthed and Michelle was not his date? Is that infidelity? Does this mean impeachment? IS HE WEARING MARIJUANA AROUND HIS NECK? Nope, this photo is just sweet and innocent.

Oh Mr. President, look how happy you were at such a simple time when the greatest concern that could possibly bother you was the size of your fro, the breasts on your date and the awkwardness of the slow dance.

One of Barry's high school friends, Kelli Allman (second to the left) just shared this gem from senior prom with Time, and it's beyond adorable. It features Barry's BFF, Greg Orme (the other dude in the photo) and Barry's date that night, Megan Hughes. Apparently the double date duo sipped on some champagne before prom, did a Socialist ritual at prom (I kid, I kid) and attended an after-party like any other high school kids.

Allman also shared a photo of her yearbook, which has an even sweeter note from the future President. If you want to get the full experience, just let your eyes wonder at this picture. But if Barry's handwriting is too handsome for you to handle, here's what he says:
It continues, but I don't care to.
Jesus Christ, editors; swoon over Ryan Gosling, or Joseph Gordon-Levitt, or any of the other currently-dreamy men who have made no choices that lead to the deaths of Pakistani children. This continuing obsession with the attractiveness of the president is completely appalling. It's worse than the lowest type of gossip site, it's worse than completely ignoring politics or serious issues, in the manner of Cosmopolitan. Yes, Jezebel is actually more embarrassing for women than Cosmo. It's official. As a lady writer, I declare it so. Better to not talk about politics than to degrade good, old fashioned fawning in this manner. Teen idols don't deserve to be grouped in with Barack Obama. The Jonas Brothers do not have predator drones. David Cassidy didn't spy on the AP. Leif Garrett didn't permit the DOJ to shut down medical marijuana clinics.
Jezebel is free to hire only leftist writers. They don't even need to think about how all women are being portrayed when they write for a women's blog — that's too much to ask of anyone. They're a subset of a subset, a moderate-left-blog for women's interests. But it's still troubling when there are multiple blogs on one platform, and it's the women's one with the most empty-headed, brood-hen bullshit. Just stop writing about politics entirely if you side-step their deadly seriousness.
And if you really support the president, explain why. Don't write snotty posts with dog-whistles to the most inane, right-wing strawmen critiques so you can all have a hearty laugh about how wacky are those Republicans. Be honest and say the drug war, the wars, the spying is all worth it to you. Politics is awful, but Obama has the power of life and death, or freedom and imprisonment, over millions of people. That is fucking serious, do not write about it as if you were a 12-year-old.
With such posts — and such timing! —  you're embarrassing the rest of the women, and the rest of the teen idols. Obama might have been a nice guy in private life, but he lost the privilege of being a morally neutral figure the moment he was elected, and he sure as hell lost the ability to be a sex symbol.